Description
Introducton:
The lab glassware washers integrate programmed cleaning, disinfecting and drying functions to clean all glassware stuff, for beaker, flask, pipette, petri dish, burette, measuring cylinder, test tube etc.
Interior work area: 90/120/200/220/320/420stainless Steel
Exterior body : #304 stainless steel
Washer trolley:#304 stainless steel and optional for : #316L stainless Steel
Standard Washing Procedure (can be self-designed by the user):
Pre-cleaning→Washing with cleaner→Rinse→Washing with neutralization→Rinse→Washing with hot water→Drying
Can clean all laboratory glassware (not limited to the types shown in the figure below), accept custom cleaning racks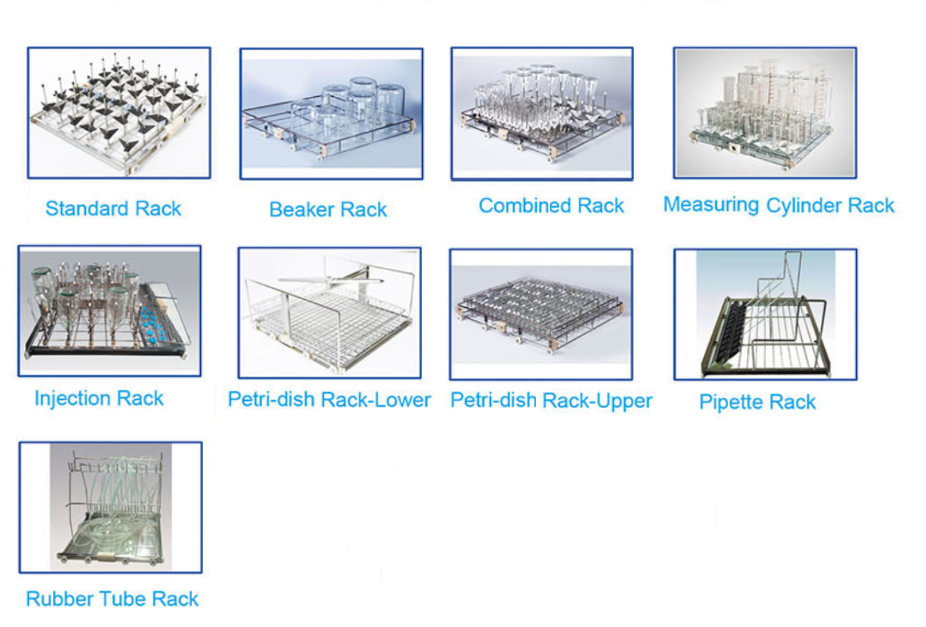 Microprocessor Control System: 
7'' LCD display touch screen, microprocessor with PLC system which is various of programmable washer cycles, detergent volume etc. User programmable with 99 storable programs and denable. All significant parameters can be set. These include: execution times, operating temperatures, quantity of additives, number of phases, and so on. Access to the control operations is protected by a system of four user passwords.
Reliability:
1.Microprocessor with PLC control system anti-EMI (electrical magnetic interface )
2.7'' colorful touch screen is easy control and observation, It display the work situation.
3.Password protection with three levels can meet different management needs which block the authorized entry.
4.Parameters setting memory for Power failure, washer cycles is going on as soon as power comes back.
5.Safety protection water temperature and dry air temperature, when the temperature exceed the setting, it will stop working.
6.Safety lock with electromagnetic release to prevent door opening while it is in wash/dry cycle.
7.Safety electrical system for circuit overload, short circuit, over current and leakage current safety emergency button for stop the unit in time.
8.Alarm system: drainage malfunction alarm, detergent/neutralizer shortage alarm, high water.
9.heating alarm etc.
Optional Accessories:
1. Optional Water Conductivity Monitoring
Sensor measures the level of dissolved inorganics such as calcium and ferrous ions in the tank water, providing validation of water cleanliness, hardness and rinsing thoroughness. commons that detergent, rinse aid and puried water have been properly dispensed.
2. Optional Printer
The traceability of the washing and thermal disinfection cycles performed in professional glassware washers is required in order to check the operations have been successfully completed. The printer is an accessory which can provide a detailed report.